Who we are
WE'RE THE EXPERTS
With over 60 years of experience, we know professional heat guns. Check out our resource center for videos, articles, press releases and other industry happenings!
Articles and Blogs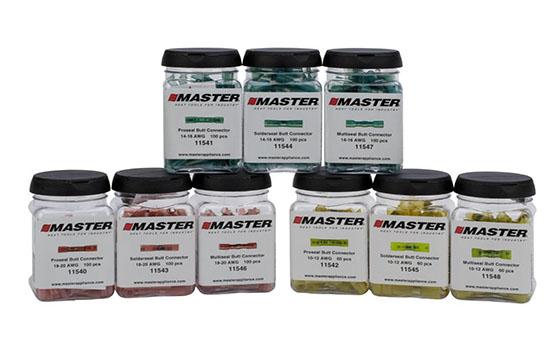 Which Heat Shrink Connector do you need?
Having the right tools in life is very important. Whether this means having a socket wrench at the right moment or a jack when you get a flat, the fact remains the same… READ MORE 
REPAIR SERVICES
Need a part or want a fix up your Master Heat Tool? We have you covered. Master has a full-service repair division to repair your heat gun or soldering iron. We also offer a full selection of heat gun and soldering iron repair parts for your convenience.
---
Professional Heat Guns, Soldering Irons & Torches
Wherever heat is needed, we are here to help. Master Appliance was the first to introduce the industrial-quality, heavy duty professional heat gun to the worldwide marketplace back in 1958. Since then, we have continually developed new products and replacement parts with expanded capabilities, making it easy to work with new materials and processes used throughout the industry. We are pleased to offer a wide range of heat tools and equipment that will allow you to perform projects faster than ever before. Every professional heat gun we produce is part of a complete line and designed to resolve many of the problems our customers face. Whether you need to solder, desolder, shrink wrap packaging, thaw frozen pipes, install heat shrink tubing, or braze two distinct kinds of metals, we have you covered in our online heat gun store or through our large distributor network.
There are many advantages to having a professional heat tool on hand, and no one knows heat guns better than us. No matter the need or specific application, we have a heat tool to keep you working. The Industrial Master heat gun collection features a variety of multiple-use tools with high-temperature, power, and airflow ratings. With instant heat up to 1,000° F, you can solder or weld plastics, metals, glass, and many other materials. The Proheat Professional collection features lightweight heat guns that are designed to help you complete any project with ease. With six models to choose from, we are confident that you will find a reliable solution to suit shrink packaging, activating adhesives, bending plastics, and more.
In addition to heat guns, our selection of heat tools and equipment also includes heat blowers, soldering irons, torches, electrical wire connectors and butane fuel for commercial or industrial applications. Butane torches are ideal when dealing with many fabrication or repair tasks in hard-to-reach areas. All heat guns, heat blowers, soldering irons, and microtorches are carefully tested and inspected before being shipped from the factory. Our heat gun store also includes accessories, attachments, butane fuel refills, replacement parts, tools, and other essentials. Please feel free to contact us if you have any questions about us or our selection of products. An experienced sales representative will happily help you find the best tool to suit your needs.
---