PortaPro Glue Guns
Master's Portapro glue guns are lightweight, cordless and run great on Master's Ultratane Butane. Great for bonding corrugated materials, chipboard and wood, fastening plastics, light metals, textiles, shock absorbent packaging, capacitors, resistors, soldering parts and resealing products while packaging. Both models are completely portable, allowing you to work almost anywhere without having to look for an electrical outlet.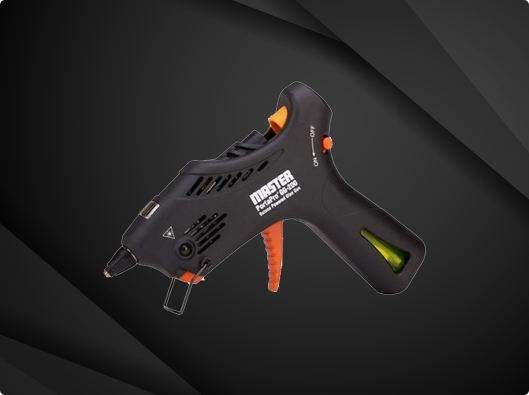 PortaPro® Glue Gun Model GG-200
Industrial quality butane glue gun with unique temperature control thermostat that regulates gun chamber temperature conserving butane fuel output.
Hot-melt adhesive (HMA) is a general form of thermoplastic adhesive that is commonly used in industrial settings and manufacturing or assembly processes. Master Appliance is pleased to offer a complete line of PortaPro hot glue guns, providing the ultimate solution to suit any continuous heating requirements. Hot-melt adhesives have many advantages over solvent-based adhesives or other fasteners used in the workplace because it dries fast and strong to reduce downtime or delay. Between the two glue gun models we offer, you can benefit from 120 to 140 minutes of run time up to 392° F. Each model features an ergonomic design for ease of use, a built-in fuel level window, and much more. Get adhesive on the go by simply refueling your butane canisters at a local gas station or hardware store.
PortaPro cordless glue guns are designed to suit many gluing applications, including automotive, electronics, woodwork, and much more. Model GG-200 is a lightweight, cordless, butane-powered glue gun that features a unique temperature control thermostat which automatically controls the glue gun chamber temperature by regulating the gas flow for optimal efficiency in butane consumption. As a result, this compact glue gun delivers an improved run time of up to two hours and a much lower butane consumption rate. Model GG-100 provides the power and durability you need to get the job done in most industrial applications. Every butane-powered glue gun we supply is warranted to be free from defects under normal use and service for one year from the date of purchase. Please contact us with any questions or concerns about PortaPro glue guns today.
Industrial quality cordless, butane powered glue guns.