Electric Heat Guns
Master Appliance Master offers a variety of carrying cases, stands, heat shrink attachments, spreaders and reducer attachments for your heat gun. Select the model type and see what we have to offer. Should you have questions about which item best suits your needs, reach out to us and we'll be glad to assist!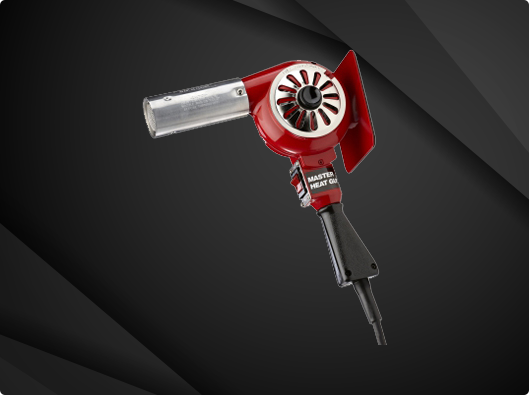 A full selection of attachments and accessories for Master HG's, Varitemps, Proheats, Master Mites and Ecoheats.
There's no better investment than an electric heat gun that can help you tackle a wide variety of home repairs and projects. However, some applications and substrates call for particular types of attachments or tips. That's where Master Appliance can help. Our electric heat guns represent the very best in heat gun technology, but the right attachments can make all the difference depending on the task at hand. We offer a wide selection of attachments and accessories for all the Master, Proheat, Proheat Varitemp, Master-Mite, Veritemp, and Ecoheat heat guns we proudly supply. You can shop by electric heat gun model to make your search fast and simple.
With one of our electric heat guns and the right attachments on hand, you can safely and successfully soften old paint, putty, or asphalt tile as well as heat-shrink plastic films and electrical tubing. We offer an array of attachments that can help you achieve the desired results of any project at home or on the job. Reducers can be used for precision welding, soldering, preheating substrates, and performing detail work. Spreaders help generate airflow to larger work areas, which can be useful when applying or removing shrink films and graphics. Preforms provide a precise volume of solder and flux to the desired area. No matter what you are looking for, we have all your needs covered in our collection.
From home repairs to industrial applications, the possibilities are limitless when you own one of Master's electric heat guns. Shop from our selection of electric heat gun attachments and accessories today to stock up on all the essentials you need at an excellent price. In 1958, we introduced the first industrial-quality heat gun to the worldwide marketplace. Today, our electric heat guns are used for drying, heating, shrinking, soldering, welding, and other difficult applications that demand nothing but the highest quality tools. We continually develop new products with expanded capabilities, making it easy to work with new materials and processes used throughout the industry. If you have any questions about our selection of attachments and accessories, please contact us today to learn more.